Cosmetic Dentistry In St Clair Shores, MI - Malouf Family Dentistry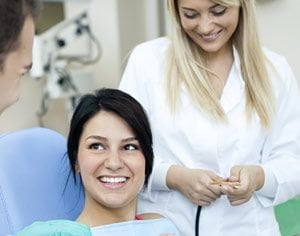 It's hard not to notice a beautiful, radiant smile. Of course, here at our St. Clair Shores, MI, dental practice, Dr. Sam Malouf and his team want to make getting cosmetic dentistry easy and accessible for everyone. Just because your smile isn't perfect doesn't mean it can't be. Our team can help you get the smile you've always wanted with the help of cosmetic dentistry tailored to you.
What Cosmetic Dentistry Can Treat
The purpose of cosmetic dentistry is to provide our patients with dental treatments that can help them hide or correct imperfections while improving the overall appearance of their smiles. A beautiful smile is more appealing, confident, and attractive, and can even take years off your face. There are many reasons people turn to Dr. Malouf and his team for cosmetic dentistry, and every treatment option we offer can be tailored to meet your needs. From gaps between teeth to yellowing teeth, we've treated it all with cosmetic dentistry.

Types of Cosmetic Dentistry
We pride ourselves on providing the very latest and most advanced cosmetic techniques and treatment options available to patients living in and around St. Clair Shores, MI. We offer a full spectrum of cosmetic dental services that can be performed individually or in conjunction with other treatment options to help you achieve your dream smile. Some top cosmetic services we offer include:

In-office or chairside teeth whitening: get rid of stubborn yellowing and dark stains and get a smile that's anywhere from 5-8 shades whiter in just a one-hour session

Dental bonding: tooth-colored moldable resin is applied to a tooth to hide small chips, cracks, and stains, as well as gaps between teeth
Tooth reshaping: to improve the overall shape or size of a tooth, we may need to shave some enamel off the tooth to alter its appearance
Dental veneers: a brand-new smile could be yours with these thin porcelain shells that are bonded to the front of your teeth to hide most imperfections and to give you a straighter and healthier-looking smile


Are you ready to sit down with Dr. Malouf and his team to find out how cosmetic dentistry can improve your smile?
We are proud to offer advanced cosmetic dentistry to residents in St. Clair Shores, MI.
To schedule a consultation, call us at (586) 772-9020!