Veneers In St. Clair Shores, MI - Malouf Family Dentistry
What makes a smile beautiful? That's a complex question, but some qualities of a lovely smile are immediately identifiable: good tooth color, shape and alignment are a few of the most important ones. If your teeth could use improvement in any of these categories, porcelain veneers in St. Clair Shores could be just what you're looking for.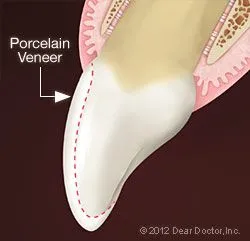 You may already know that a veneer is a thin covering over another surface. In dentistry, a veneer is a wafer-thin layer of super-strong porcelain that convincingly substitutes for natural tooth enamel. When bonded to your teeth, veneers can create a natural-looking, beautiful new surface. That's because dental porcelain, like natural tooth enamel, is translucent and tough. But it doesn't stain like tooth enamel does.
Recent years have brought remarkable advances in dental porcelain technology. These days, veneers can be made so thin that they can sometimes be bonded directly onto your existing tooth surface. In other cases, a very thin layer of tooth enamel — as thin as the veneer itself — needs to be removed to fit the new porcelain surface and make it look as lifelike as possible. Either way, the results are sure to make you smile.
5 Extraordinary Benefits of Veneers
Bad smile? Porcelain veneers will give you that million-dollar smile you've always wanted. Veneers are thin shells that are placed over the teeth to improve your smile. Malouf Family Dentistry, which is located in St. Clair Shores, MI, offers veneers to their patients. Dr. Sam Malouf is one of the finest dentists in Clair Shores, MI. Here are five extraordinary benefits of veneers.
1. Fix Dental Problems
One of of the most significant advantages of porcelain veneers is the fact that they can fix many dental problems at the same time. These shells fit over the teeth changing their length, shape, and size. veneers are routinely used to fix misaligned teeth, crooked teeth, worn-down teeth, gapped teeth, cracked teeth, and tooth discoloration.
2. Strength and Durability
Dental veneers are very durable. Although dental veneers are very thin, once they are bonded to the teeth, they become very strong. Veneers are made of high-quality porcelain and have proven time and time again to be resistant to wear and fractures.
3. Whiten Your Smile
You don't have to live with stained teeth. Porcelain veneers are used to change the color of teeth. Porcelain veneers can give you dramatically whiter smile instantly. Nothing is more rejuvenating than a beautiful, white smile.
4. Look Years Younger
Bad teeth can make you look older. If you want to look younger, getting porcelain veneers is a great place to start. Porcelain veneers will restore your smile and make you look younger instantly.
5. Increased Self-Esteem
Low self-esteem results from a poor self-image, which can lead to depression. How you feel about yourself also affects your relationships, confidence and well-being. Porcelain veneers will enhance your smile and help you feel better about yourself. With veneers, you will feel more confident when you speak, eat and smile.
Caring for Your Veneers
Just like the teeth nature gave you, teeth restored with veneers need gentle brushing and flossing every day. This will remove dental plaque and ensure good gum tissue health around the veneers. Regular checkups at the dental office will remain as important as always to your oral and general health. And keep in mind that as tough as veneers are, they may not be able to withstand forces that come from using your teeth as tools (to open packages, for example) or biting into very hard foods like candy apples — which isn't good for your natural teeth, either! And if you grind or clench your teeth at night, you might be advised to get a custom-made nightguard to protect your veneers — and your investment.
Are you ready to take your smile from ordinary to extraordinary?
Call Malouf Family Dentistry at 586-772-9020 to schedule a consultation in St. Clair Shores, MI.

Veneers won't just improve your smile, they will also change your life for the better. Here's to you.
Related Articles on Veneers